Transforming service delivery at Ma'aden Gold mining sites
Overview
In January 2017 Ma'aden Gold awarded CIT with a three year contract to provide cleaning, housekeeping, laundry, pest control and landscaping services to its mines.
What did the client need?
Ma'aden was looking for a service provider that would transform the service delivery model from a typical conventional manpower supply to a more strategic, innovative and lean service delivery model.
How did we help?
Improved operating procedures
Introduction of colour-coded cleaning system
We've implemented our colour-coded cleaning system at Ma'aden Gold mines, we have become the first adopter of this cleaning methodology in the Kingdom of Saudi Arabia. The main principle behind the use of colour coding equipment and materials is to reduce the risk of cross contamination within the areas that are cleaned. Cross-contamination is a significant issue for CIT; thoroughly cleaning one area and then dragging dirt and germs into another area of the building defeats the purpose of cleaning. One of the best ways to help reduce cross-contamination is to use colour code cleaning equipment so that certain tools and cloths etc. are used only for certain tasks.
Introduction of backpack vacuums
By using HEPA filtered backpack vacuum cleaners instead of traditional tub vacuums, the cleaning productivity rate increased from 2,500 square feet per hour to 7,273 square feet per hour; a 190% increase. Although the machine itself did not use any less electricity, the very fact that it doesn't need to be switched on for as long to achieve the same or indeed improved results meant that less energy was used.
Introduced complimentary services
Upon award we understood that living in remote sites tends to be stressful as one lives miles away from family and friends. Therefore, our contracts team decided to add complimentary hotel services to our service offering. At no cost whatsoever to Ma'aden we decided to implement the following at all God mines:
Dentil kits
Laundry bag & laundry form
Do not disturb signs
You might also be interested in…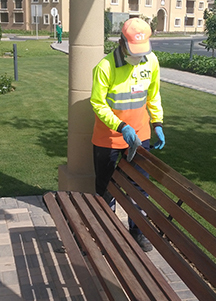 Maintaining clean environments into the digital age at King Abdullah Economic City
Services provided
Share this article in